Déjà 7 ans de cinéma, de musique, de reportage, de documentaire, d'artisanat, de design, de mode, de projets associatifs et de développements d'entreprises financés sur KissKissBankBank & Co – éditeur des sites KissKissBankBank (don contre don & prévente), hellomerci (prêt solidaire entre amis) et LENDOPOLIS (crédit aux entreprises).
Pour passer un nouveau cap, le leader français du financement participatif inaugure, le 17 novembre 2016, sa Maison de Crowdfunding au 34 rue Paradis dans le 10ème à Paris sous le parrainage de Cyril Dion (le réalisateur du film Demain).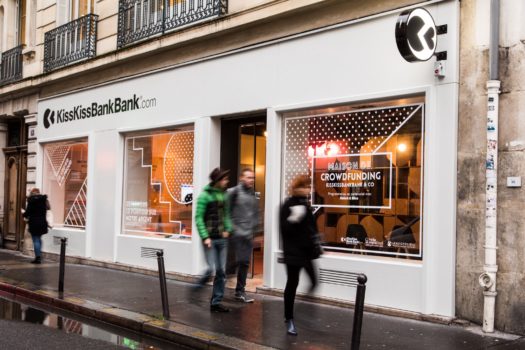 Téléchargez les photos de la Maison de Crowdfunding ici.
KissKissBankBank & Co lance simultanément son média en ligne "Crowd" en partenariat avec Usbek & Rica en s'appuyant sur la première étude de mesure d'impact de son crowdfunding.
Quel est l'impact de KissKissBankBank & Co depuis 2009 ?
"Après sept ans d'activité et le lancement de trois sites de financement participatif, il nous est apparu essentiel de mesurer l'impact du crowdfunding made in KissKissBankBank & Co. Cette étude démontre que d'une vision est née une réalité", souligne Vincent Ricordeau, CEO.
Cette étude réalisée par le cabinet Occurence et envoyée à plus de 600 000 membres de KissKissBankBank & Co montre la puissance du crowdfunding.
15 000 contrats créés,
2 900 entreprises et associations fondées,
15 millions de spectateurs rassemblés (soit 100 fois le festival d'Avignon)
et une confiance en l'avenir supérieur de 8% à la moyenne des Français.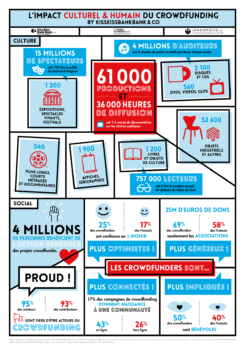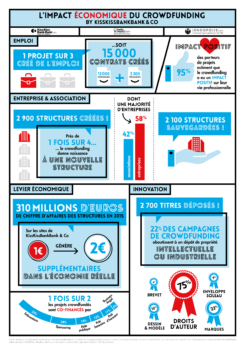 Datavisualisation et étude complètes à télécharger ici.
KissKissBankBank lance sa Maison de crowdfunding ouverte au public
KissKissBankBank & Co poursuit ainsi sa mission pédagogique. À découvrir, une exposition permanente de data-objets & de data-live sur le marché du crowdfunding et sur les résultats de la première étude de mesure d'impact des 7 ans d'activité des plateformes. Cette Maison de Crowdfunding propose des événements dédiés à l'univers du financement participatif et à l'économie du peer to peer. Au programme : conférences, projections, expositions, lancements de projets, ateliers de formation au crowdfunding, témoignages de créateurs…
Lancement d'un média en ligne "Crowd" pour tout comprendre sur le crowdfunding.
Rendez-vous sur ce blog pour tout savoir sur le financement participatif et sur l'économie du peer to peer. "Comment libérer mon argent ?", "Comment l'homo economicus peut-il se réaliser pleinement ?" "Pourquoi la finance doit elle rester au service de l'économie ?" : autant de questions auxquelles "Crowd" répondra quotidiennement en adoptant une ligne éditoriale optimiste et humaniste sur des sujets encore très peu traités en France.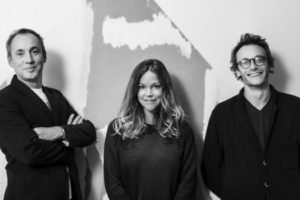 Photos des fondateurs à télécharger ici.
Retrouvez les actualités et la programmation de la Maison de Crowdfunding ici.